Posted by samson007 on November 26, 2011
Tripawds is a user-supported community. Thank you for your support!
On Nov 20th mom, dad and I went for a 3 hour car ride. We pulled into a Days Inn in Binghamton, NY and I thought we were going on vacation. Woohoo! Instead, we got out of the car and in the parking lot there was another car and a strange person and strange dalmatian. Hmmm, I was a nice guy and went over and said hello. Mom and the stranger talked for a minute and the stranger handed mom the leash (with the strange dalmatian attached) and the strange person drove away!
I did not see this one coming. My bestest friend Daisy crossed the bridge last month and I have been very lonely but…but….BUTT! (<<<I'll explain in a minute)
Mom and dad loaded us in the back seat together and told me her name was Lady and she had just ridden all the way from Aiken, South Carolina and that she had been in a shelter for a year. They also said she was an old dog like me.
What do you think this new "Lady" did? She laid down, with her BIG BUTT right in my face and fell asleep!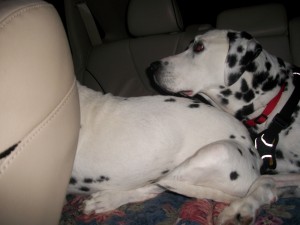 Umm, I finally got her to move over but I had to hold her paw the whole way home.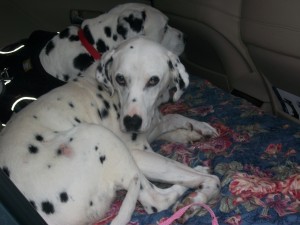 She has been here about a week now so I guess she is going to stay. It's nice to have a nap buddy while mom and dad are at work. I told her that dad is a good cook but kind of messy so she has been on kitchen patrol.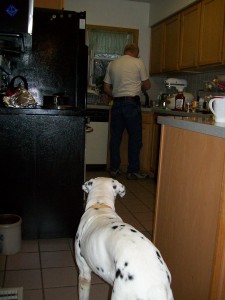 She also likes watching the squirrels in the backyard.